More than 250 Taxes Filed by Accounting Students Over Spring Break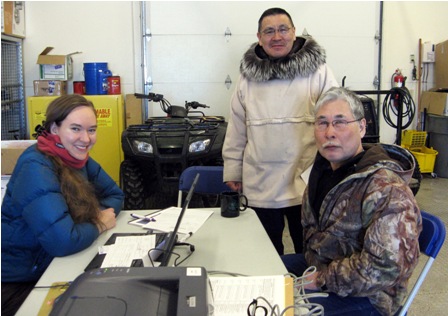 Four Montana State University (MSU) accounting students, Caitlyn Deen, Bryan Jackson, Jennifer Larson and Wasawat Tuntiprapha, spent spring break in Alaska filing tax returns through the Volunteer Income Tax Assistance (VITA) program. The program, established through the Internal Revenue Service (IRS), assists people who find it difficult to pay for tax preparation services.
The four students were selected from a pool of about 25 who were interested in participating in this program, based on their academic excellence and experience. The College of Business (CoB) pays up to $600 towards each volunteer's airfare to Anchorage, Alaska and the students make up the difference. The Alaska Business Development Center (ABDC), a non-profit organization sponsors the trip by covering all other trip expenses and taking care of logistical arrangements.
The students arrived in Anchorage on Friday, March 12, where they trained in tax laws specific to Alaska before heading out to the villages on Sunday. Prior to arriving in Alaska, all the students had practiced preparing returns through the VITA program on campus. They also had to pass an IRS tax preparation exam, complete at least one comprehensive tax course and receive specific training related to common tax issues and those pertinent to villages in Alaska, such as considerations related to fishing, oil and gas, as well as Alaska's Permanent Fund Dividend program for its citizens.
Jackson and Tuntiprapha visited smaller villages on Kodiak Island: Old Harbor, Larsen Bay, Karluk, Akhiok, Port Lion and Ouzinkie; while Deen and Larson visited three larger villages: Kongiganak, Kwigillingok and Tuntutuliak, all located in Western Alaska.
With these villages being so remote, roughly 90 percent of the villagers are native and speak a first language other than English. Deen and Larson interacted mostly with the Yupik Eskimos and the villagers were kind enough to teach them a few words in the Yupik language.
The students also experienced some culture shock with their living situation being so different from what they are used to in Bozeman. There were no roads so everyone traveled by four-wheelers, snow mobiles, boats or bush planes. Everything was very expensive. Larson recalls buying a box of donuts for twice what she pays in Bozeman. Luckily many of the students had brought food with them from Bozeman. The students slept on cots, air mattresses, on the floor and and even on a table. Toilets were broken at all three places where Deen and Larson stayed so they learned firsthand about honey buckets. The trip was an eye-opening experience for these four students.
On the other hand, the students were able to experience a rich native culture. Deen and Larson watched a rehearsal of native dancers at the local school in Kongiganak and they also visited an artist who created baskets and dance fans (similar to those used at the rehearsal) in Kwigillingok.
In four days, Deen and Larson printed 167 returns, while Jackson and Tuntiprapha completed 100, for a total of 267 returns from nine villages.
Tuntiprapha believes this experience helped prepare him for his future in accounting. "Going to Alaska gave me the opportunity to apply my knowledge to a real-life situation," he stated. "I would like to give a special thanks to [professor] Anne Christensen who did an excellent job teaching us". Tuntiprapha plans on taking the Certified Public Accounting (CPA) exam and work in the U.S. before returning to Thailand. He says, "I am confident that the Master of Professional Accountancy program at MSU and the experience in Alaska will help me contribute to the improvement of Thailand's accounting and tax system, which is principally important, given that Thailand has entered into an epoch of violently competitive trade in the international arena."
Overall, the students gained valuable tax preparation experience, learned about another culture and were able to help many villagers and their families.
For a video clip of what the students experienced and more information about the VITA program, please see our website: http://www.montana.edu/cob/Accounting/vita.html.