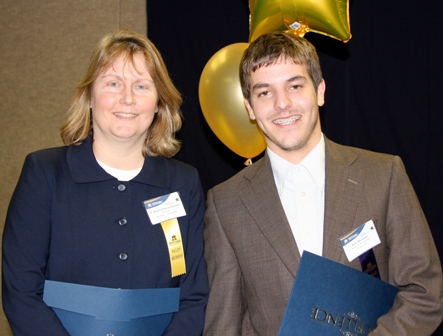 Kyle Blessinger, an accounting student with a cumulative GPA of 4.0, was encouraged to apply for the Association of Certified Fraud Examiners (ACFE) international scholarship by his professor, Dr. Bonita Kramer. Competition is very stiff for one of the 15 international awards and Blessinger was notified by the ACFE that he was not selected in this year's program. Less than a week later, he unexpectedly received a letter from the Pacific Northwest Chapter of Certified Fraud Examiners. The ACFE had forwarded Blessinger's application to the Pacific Northwest Chapter/ACFE for consideration in the annual student scholarship program and he had been selected as one of the 2010 Student Scholarship Award winners.
The award letter, signed by Joseph R. Dervaes, CFE, ACFE Fellow, CIA and Chapter President, stated that Kyle is an outstanding student at Montana State University (MSU) and is most deserving of the award. Applications for the Chapter student scholarships were extremely competitive and Dervaes said that Blessinger's application "stood head and shoulders above the rest." Dervaes also said Blessinger's selection makes a fantastic statement about the quality of the students who attend the fine educational institutions in the Pacific Northwest.
Kramer had this to say about the award: "When Kyle first told me he wasn't selected for one of the ACFE international scholarships, I was a bit disappointed, but there are so few awards available and the competition is fierce. We had just learned a week or so earlier that Kyle was selected as one of 15 graduate students throughout MSU to receive an MSU Presidential Graduate Scholarship, so overall, we were pleased with the recognition Kyle received as he is truly deserving when you look at the grades he has earned and the extracurricular activities he is involved with. Then a short while later, Kyle mentioned to me he received this ACFE Pacific NW Chapter award—I had never heard of this award before, and was absolutely thrilled and delighted to learn Kyle is being recognized by the ACFE! It made my day!"
The ACFE is the world's largest anti-fraud organization and premier provider of anti-fraud training and education. The Pacific Northwest Chapter of the ACFE is one of approximately 135 world-wide chapters and consists of 115 highly qualified fraud professionals. Members are accountants, auditors, financial managers, private investigators, educators and anyone simply interested in joining the anti-fraud battle.
The Chapter mission is to promote fraud prevention and detection through education training programs. They continually work to increase their outreach and professional networking at colleges and universities as well as in their communities. This $500 scholarship is given to only one or two Pacific Northwest college or university students each year.