Rainy Weather Did Not Dampen Enthusiasm at Annual Golf Tournament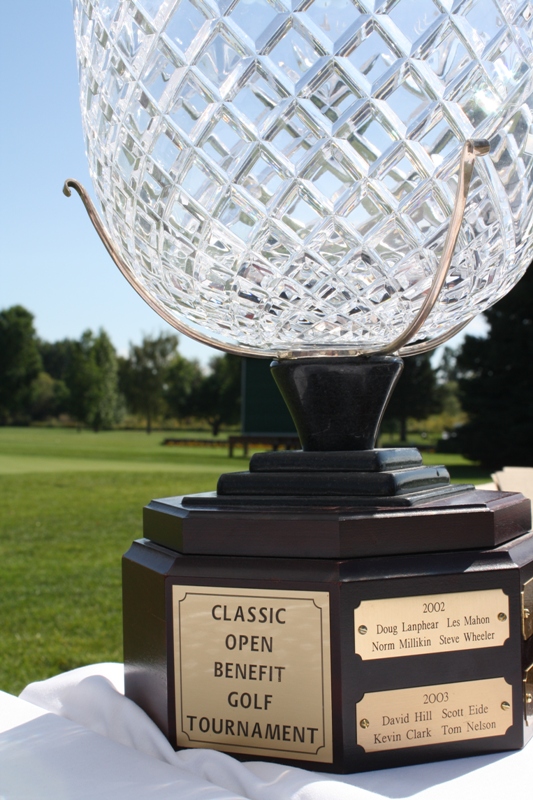 The 9th annual College of Business (CoB) Classic Open Benefit Golf Tournament took place on Friday, September 17 at Bozeman's Riverside Country Club. Even with a bit of rain and misty conditions, participants were able to play 18 holes of golf, network and have a chance to outbid each other during the silent auction.
As with past tournaments, the event began with a shotgun start at 12:30 p.m. Players had opportunities to win prizes at the longest drive holes and closest to the pin holes throughout the day. The weather was wet and cool but there were many smiles among the players, high fives and even a chest bump after one of the players made a very long putt.
The betting hole was staffed by the Finance Club and Beta Alpha Psi/Accounting Club. Monies raised at the betting hole went directly back to the clubs for club events, competitions and special projects. Adam Wrightson was this year's betting hole winner.
After each team finished and each score was posted, players anxiously waited for the last teams to finish so they could find out who had won the prestigious traveling crystal trophy. This year, the team sponsored by Dotty's, comprised of Scott Eide, Dusty Fasbender, Eric Murphy and Adam Wrightson, were the 1st place winners with the lowest gross score. Team members' names were etched into the base of the trophy and they have the distinct honor of showcasing the trophy at their place of business.
Overall, the tournament was a fun event where CoB alumni and friends spent the day golfing while supporting CoB students. The funds raised through the tournament go toward student programs and scholarships. Last year, CoB students, Tyson Johnson, Tonia McCarmish and Kate Oswald, were awarded the 2009 "Friends of the Classic Open Benefit Golf Tournament" scholarships, which were presented at the April 2010 awards banquet.
It is with the support of our event sponsors, players and silent auction donors that the CoB is able to continue providing excellent business education. We would like to give a special thanks to First Interstate Bank as the Mulligans sponsor, and Mountain West Bank and Old Chicago as the Cart Fleet Sponsors. We would also like to acknowledge our tee box sponsors: MSU Alumni Association, RightNow Technologies, East Main Liquor, the Montana Rib & Chop House, KPMG, LLC and American Federal Savings Bank.
Next year's event is tentatively slated for Friday, September 16. Contact Audrey Lee at audrey.lee@montana.edu for more information or see the CoB website.
Tournament Winners:
Gross 1st Place: Scott Eide, Dusty Fasbender, Eric Murphy and Adam Wrightson (Dotty's)
Gross 2nd Place: Brady Meltzer, Gary Bloomer, Devin Gray and Tory Atkins (RightNow Technologies)
Gross 3rd Place: Rob Rouse, Travis Cottom, Graver Johnson and Mathew Blades (Mountain West Bank)
Net 1st Place: Jeff Weedin, Brandon VanCleeve, Rhett Nemelka and Ryan Mikkola
Net 2nd Place: Steve Wheeler, Les Mahon, Norm Millikin and Doug Lanphear (First Interstate Bank)
Net 3rd Place: Tom Sather, Ed Brandt, Sean Gallinger and Tyler Wiltgen
Longest Drive (Men 0-20): Scott Eide
Longest Drive (Men 21+): Barry Jeide
Longest Drive (Women 25+): Julie Kostelecky
Closest to the Pin (Men): Rich Semenik
Closest to the Pin (Women): Jackie Sather