Six Family Businesses Honored at Family Business Day Awards Luncheon
The 17th Annual MSU College of Business (CoB) State Farm Insurance Family Business Day Program honored several family businesses with an awards luncheon on Friday, September 24, at the Holiday Inn in Bozeman, Montana.
Many businesses, which range in size from fewer than 10 employees to more than 50, in various industries, are nominated each year. This year's six winners are:
TwoMedicine Health & Financial Fitness of Bozeman—Very small business category (fewer than 10 employees)
Red Rock Power, Inc. of Havre—Small business category (10 to 30 employees)
Montana Milling, Inc. of Great Falls—Medium business category (30 to 50 employees)
BioScience Laboratories, Inc. of Bozeman—Large business category (more than 50 employees)
Teton Banks of Fairfield—Old business category (in business more than 50 years)
Agri-Best Feeds, Inc. of Billings—New business category (in business less than 10 years)
Winners were chosen from a pool of more than 50 applicants, based on their commitment to customer service, family values and their adaptability to an ever-changing business environment.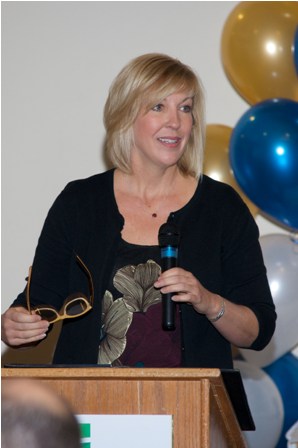 Kathy Stark, co-owner of Starky's Authentic Americana, and this year's luncheon keynote speaker, shared Starky's story, "Back from the Blast: Comeback Strategies for Success." She told how their small family restaurant has weathered tragedy and experienced continued success.
The Starks opened a New York-style lunch-only eatery, Starky's Authentic Delicatessen, after moving here from Detroit, Michigan in 2003. It was a tremendous success and operated smoothly until Bozeman, Montana's 2009 gas main explosion. The restaurant was destroyed in a tragedy that leveled half a city block.
Since starting the restaurant, the Stark's mantra has been to "create a meaningful experience for our customer," which is not limited to those who walk through their doors, but includes everyone in the community. It was this community connection that led to their comeback after the explosion. The outpouring of support following the explosion was integral to their recovery and Stark emphasized the importance of the customer and community. She credited this support for taking her and her husband from "discouragement, rejection, exhaustion and self-pity" to an attitude of perseverance and "It's Possible."
The Family Business Day luncheon brought participating families together to celebrate their achievements, as well as learn from each other. Multiple generations were represented at the occasion, with several who were MSU alumni.
The CoB and State Farm Insurance, in honor of Robert Jaedicke, hosted the program. Stockman Bank underwrote the awards, with additional support from the Montana Chamber of Commerce.
For more information on the Family Business Day program, go to http://www.montana.edu/wwwdb/FamilyBusiness/FamilyBusiness.html or contact Karen Beach at 994-6796 or familybusiness@montana.edu.