Check Out These Upcoming Recruiting Events
Etiquette Dinner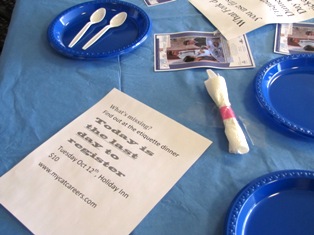 Tuesday, October 12 from 6:00-8:00 PM, Holiday Inn
$10/person. Register at Career Services website. www.montana.edu/careers.

Meet the Recruiters

Wednesday, October 13 from 5:00-6:30 PM at the Stadium Club (football stadium), 2nd Floor
Businesses from around the nation gather together to meet with CoB students. Students will find the experience rewarding and beneficial for their future job pursuits. *Business Professional/Casual Required.

MSU Career Fair
Thursday, October 14 from 9:00 AM – 3:00 PM in the Strand Union Building (SUB) Ballrooms.

National Business Recruiter Panel
Thursday, October 14 from 5:30-6:30 PM in Reid Hall 105
Come listen to a discussion panel with recruiters from Boeing, Kiewit, NAVSEA and RightNow Technologies. This panel is sponsored by the Finance Club, Human Resources Management Club with pizza provided by Kiewit. All business majors are encouraged to attend. *Freshmen can get Champchange points. www.champchange.com

Kiewit Information Session
Thursday, October 14 at 7:00 PM in Reid Hall 453
Come learn about Kiewit, an employer of College of Business students. Peder Jensen and Jodi Thelen, both CoB alumni, will be the visiting company representatives. They will also be a part of the Recruiter Panel *listed above.