Record Attendance at Fall College of Business Entrepreneur Day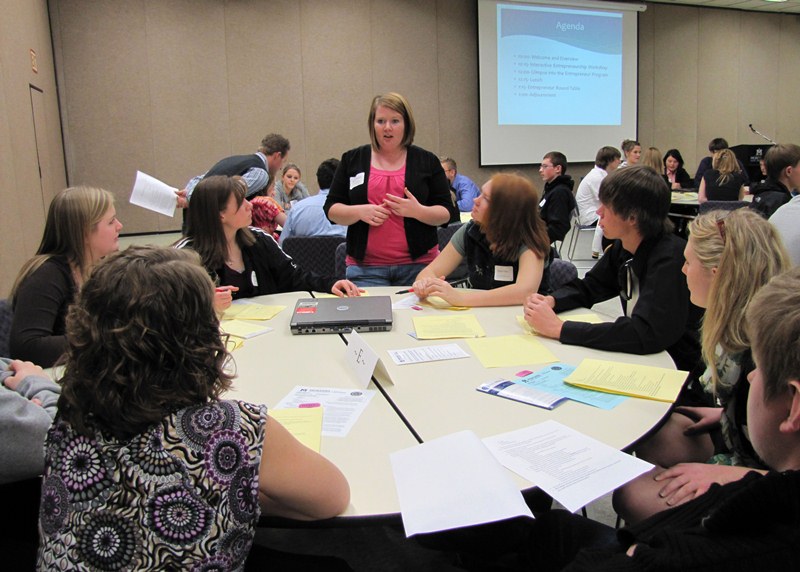 For the first time, the MSU College of Business Entrepreneur Day took place fall semester. On Wednesday, November 3, the event hosted high school and college students in the Strand Union Building for a day of interactive business education with a focus on entrepreneurship.
By switching to the fall, the event had an overwhelming response; with more than 140 students and advisors attending, it was filled to maximum capacity. Participating schools included Cascade High School, Columbus High School, Flathead Valley Community College, Park City High School, Park High School (Livingston), Reed Point High School, Shields Valley High School, Simms High School and Whitefish High School.
A number of College of Business (CoB) entrepreneurship students volunteered as "SME" (Subject Matter Experts) advisors. These students were Kaley Bjornsen, Kyle Blackmore, Ryan Brajcich, Cody Brister, Alli Hunthausen, Lily Hurley, Heather Krugher, Tara Lindblom, Samar Najaar, LeAnn Plymale, Zach Wilkinson and Chealsea Wilson. They were on-hand during the workshop to answer questions relating to the project and to offer their business knowledge.
The day began with an entrepreneurial small business building workshop. The students were divided into teams and given information about creating their businesses. Every group developed a small business, based in Montana, which could be brought into a fully operational status in 180 days. Each team was given a $15,000 check as seed capital to launch their business. The students were able to choose the business' legal form of ownership and even filled organizational positions.
The students were also tasked with putting together a PowerPoint presentation for their new business concept. Partway through the workshop, Gary Bishop, a CoB management instructor and the workshop facilitator, told the students to close their laptops, saying there was a "software problem." He said they had the remaining time to put together a two minute "elevator pitch" addressing what their product or service was, where it would be located, what the need associated with the product was, and then to ask for investment money.
When the time was up, Bishop told the participants a story about being part of a team that was sent to pitch a business proposal which would lead to a critical partnership. As the team stepped out of the elevator to walk down the hall to the meeting, they heard a loud crash and realized that their laptop had just dropped to the ground and was damaged. The team had to make some last minute phone calls and improvise their business pitch. In the end, the team succeeded and they were told that their presentation was the most refreshing and original the company had seen. Bishop had just simulated this type of problem for the students and emphasized that in business you have to be prepared for everything.
The students then gave their elevator pitches, one team at a time. Unique businesses such as Bubbles of Fun carwash in Miles City, Early Bird Espresso in Columbia Falls and Rent-a-Coat were presented through the elevator pitches.
Management student Tara Lindblom was very impressed with the students. "As a senior College of Business student, [I think] the level of creativity and professionalism among the high school students is incredibly impressive."
After lunch, two groups of CoB entrepreneurship students gave presentations on the projects they have worked on through the program. One group worked with biodiesel fuel research and the other group worked with StuffIt bags, a laptop cover company. The StuffIt group even gave away some laptop covers.
The day ended with two local entrepreneurs, John Weber of Rancho Deluxe Promotions and Becky Restum with Luna Properties, talking with students about their businesses and how they were started. After their formal presentation, Weber and Restum mingled with the students, informally answering questions.
The event gave students the opportunity to delve into the business word and was an enormous success. Mitzi Richards, the advisor for Shields Valley said, "MSU Entrepreneur Day is a wonderful experience and opportunity for students. In the span of just a few hours, they transform from ordinary high school students to entrepreneurs presenting an elevator pitch!"
Entrepreneur Day reflects the CoB's and the Alderson Program in Entrepreneurship's commitment to improve Montana's economic development, while providing a framework for an outstanding educational experience for students. This event was sponsored in part by Boeing. Students from any major at MSU can take entrepreneurship coursework through the CoB's 30 credit-hour Entrepreneurship and Small Business Management minor.
For more information about the MSU College of Business Entrepreneur Day, please contact Audrey Lee at 406-994-7026 or audrey.lee@montana.edu.