Bob Arrotta Honored with College of Business Scholarships in his Name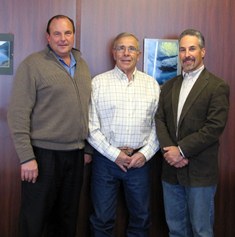 Bob Arrotta is a familiar face on the Montana State University (MSU) campus, having built many relationships with MSU employees while working for Harrington's Bottling Company. A longtime Bozeman resident and manager of Harrington's, he is well respected by his employees and those he has worked with over the years.
In Arrotta's honor, Harrington's has pledged three-year funding for The Student Service and Mentorship Award. At least one scholarship for a College of Business (CoB) student will be given each of those years. Scott Lease, Harrington's general manager, believes this award is a great way to honor a man with the ability to communicate and work well with people by developing lasting relationships.
"For Harrington's, we have a soft spot for schools and young people and we are proud and honored to be associated with MSU. We are delighted to provide this scholarship in Bob's name. He has been a great friend and co-worker for the past 30 years." Lease said.
Arrotta, known as a good leader and mentor for Harrington's Bottling Company, spent many years actively involved in the community, including the Gallatin Empire Lions Club and serving on more than nine community boards. He was instrumental in Bozeman's successful bid for the College National Finals Rodeo (CNFR), which was held here for 24 years. Arrotta organized and volunteered on many CNFR committees the years the event was in Bozeman.
The Student Service and Mentorship Award will be given to a sophomore, junior, senior, or Master in Professional Accountancy student. The award will recognize a student demonstrating exceptional commitment to community service or mentorship by volunteering in a project that enhances quality of life or community awareness, much like the citizenship Arrotta has modeled. The student will also be a role model whose work demonstrates one or more elements of the CoB Student PRIDE Code of Excellence.
Arrotta was surprised by the award and genuinely humbled by the honor. "There are great things going on in the College [of Business] and the students are lucky to receive degrees from this institution," he said. "For about 30 years, I worked with the College daily and this [award] is very dear to me and my family."
The award will provide another opportunity for CoB students to cultivate professional development and leadership skills while understanding the value of participating in a worthy project or giving back time and/or resources to the community.