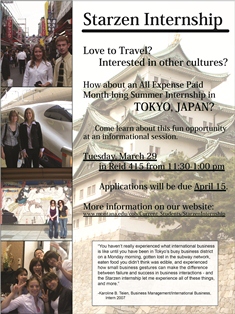 There are many great events this week — opportunities for internships, jobs and international travel.
March 28: Accounting Recruiters Spring Orientation (Deloitte, PwC, KPMG, Moss Adams) in Reid 108 @ 5:10 pm
March 29: Starzen Info Session (11:30am-1:00 pm in Reid 415) – Come learn about the Starzen Summer Internship in Tokyo, Japan. This is a great opportunity for those interested in international business/relations and travel. More information about the program here.
March 30: Wealth Vest Student/Professional Mixer (5:30 pm-7:00 pm at WealthVest) – All College of Business students are invited to come and network with business professionals. Dress is business casual. RSVPs are requested. Please stop by the Bracken Center to RSVP and for more information. (1007 E. Main St, Suite 101)