Upcoming College of Business Events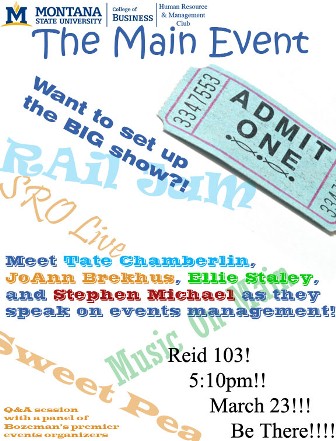 There are some fun and exciting upcoming events at the College of Business!
The American Bank Student/Professional Mixer is on March 22 from 5:30 pm - 7:00 pm. RSVP deadline is Friday, March 11. Please go to Reid 457 (The Bracken Center) to RSVP. The Bozeman business community will be meeting and mingling with students and faculty.
The HRMC will be hosting "The Main Event" on March 23 @ 5:10 pm in Reid 103. Learn how to plan BIG events - Guest speakers include expert event organizers: Tate Chamberlain, JoAnn Brekhus, Ellie Staley and Stephen Michael.