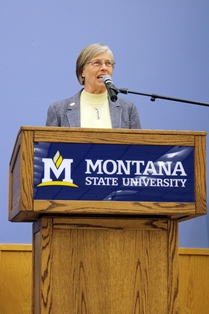 At the 2011 Scholarship Banquet, the College of Business (CoB) gave more than 120 scholarships and awards for students majoring in business options for the 2011-2012 academic year—one of the highest numbers ever. The scholarships, announced Monday, April 18 at the banquet, were provided through endowments and funds set up to specifically grant financial aid to students enrolled in the CoB. Around 267 people, including family and friends, attended the event.
Linda Reynolds, a 1971 Montana State University (MSU) graduate, was the keynote speaker for the event. She talked about seven life lessons learned that she wished to pass on to the scholarship and award recipients. These lessons were:
1. No matter what you are doing, do your best. Make it a challenge to excel.
2. Look for the opportunity to make a positive impact.
3. Skills and knowledge are transferable.
4. If you don't know what you really want to do, then "What" is not the issue. Just pick an industry with lots of room for advancement.
5. There is no such thing as failure: You either get what you want or you get more information.
6. Find the type of work that challenges you. In other words, "Choose work that forces you to grow—to use more of yourself."
7. You can leverage the use of your time and talents by a third T: Treasure. Save some money along the way.
Reynolds delved more into the importance of "Time, Talent and Treasure" and how various people have donated their "treasure" to allow the student recipients to leverage their time and their talent while at MSU. As a scholarship recipient herself, she encouraged everyone to think about how they can apply their time, talents and treasure to make an impact on others. "Invest your treasure to give someone else the opportunity to succeed, like you were given. You can have an impact, change a life and maybe change the world. And you may find that one of the biggest impacts is the joy you feel by helping someone else!"
If you would like more information about CoB scholarships, please contact Halina Rickman at hrickman@montana.edu or 406-994-4423.
Scholarship recipients and the type of scholarship/awards received were:
In-State Recipients
Nicholas Axeline, Billings - David & Dorothy Patterson Scholarship
Gabrialle Berthelson, Browning - David & Dorothy Patterson Scholarship, Grace Rosness Memorial Scholarship
Cory Brester, Laurel - John T. Cadby & George Bennett Scholarship
Dezarae Brewington, Judith Gap - David & Dorothy Patterson Scholarship
Jennifer Brien, Somers - Jake Jabs Scholarship
Emily Bumgarner, Belt - Elizabeth Seitz-Moyer Memorial Scholarship
Jennifer Cooley, Jordan - Frank Preston Scholarship
Brooks Demaree, Gardiner - David & Dorothy Patterson Scholarship
Jocelyn Drange, Big Timber - David & Dorothy Patterson Scholarship
Patrick Franqui, Billings - Junkermier, Clark, Campanella, Stevens Scholarship
Morena Garcia, Bozeman - Jake Jabs Scholarship
Skylar Hager, Bozeman - David & Dorothy Patterson Scholarship, Jake Jabs Scholarship
Dane Hancock, Medicine Lake - David & Dorothy Patterson Scholarship
Andrew Helder, Kalispell - Jake Jabs Scholarship
Loretta Hemingway, Kalispell - Anderson ZurMuehlen & Co. Scholarship, David & Dorothy Patterson Scholarship
Michael Hines, Plains - David & Dorothy Patterson Scholarship
Alyssa Hjelvik, Melstone - J & H Office Supply Scholarship
Aimee Hokanson, Bozeman - Howard Kelsey Memorial Scholarship
Samantha Holzwarth, Colstrip - American Bank/Carolyn Erickson Finance Scholarship
Angelica Hould, Malta - David & Dorothy Patterson Scholarship
Lauren Jackson, Bozeman - KPMG LLP Scholarship
Hannah Jerome, Helena - Donald W. Bullock Memorial Scholarship, David & Dorothy Patterson Scholarship
David Johannessen, Bozeman - Farmer Anderson Memorial Scholarship, David & Dorothy Patterson Scholarship, Armistead International Study Fellowship, Gary K. Bracken International Study Fellowship
Afton Johnsen, Bozeman - D. A. Davidson & Co. Scholarship, Jake Jabs Scholarship
Amanda Johnson, Sidney - U.S. Bank Scholarship
Kayla Jorgensen, Manhattan - Galusha, Higgins & Galusha Scholarship
Arnold Kleinsasser, Manhattan - Gary K. Bracken Professionalism Award
Shawn Knutzen, Basin - John W. Blankenhorn Scholarship
Marci Kolar, Belt - David & Dorothy Patterson Scholarship
Collette Krantz, Kalispell - Big Sky Association of CFE Scholarship
Desirae Lindquist, Corvallis - Jake Jabs Scholarship
Tonia McCamish, Baker - Joseph Eve CPAs Scholarship
Matthew McKee, Bozeman - Harlan F. Patterson Scholarship
Katie Michunovich, Lauel - Deloitte Scholarship
Whitney Milos, Great Falls - Jake Jabs Scholarship
Steven Moodie, Lewistown - Parent Family Association Scholarship
Nate Mooney, Dillon - Russell B. Hart Memorial Scholarship, Jake Jabs Scholarship
Daniel Mouw, Manhattan - Harlan F. Patterson Scholarship
Sophie Mumford, Bozeman - Gil Crain Memorial Scholarship, David & Dorothy Patterson Scholarship
Lynnea Nelson, Helena - Jake Jabs Scholarship, Harlan F. Patterson Scholarship
Derek Nickelson, Bozeman - David & Dorothy Patterson Scholarship
Michael Nylund, Bozeman - Jake Jabs Scholarship
Austin Patritti, Whitehall - David & Dorothy Patterson Scholarship
Jamie Pearce, Bozeman - Jake Jabs Scholarship
Erin Pezoldt, Columbus -KPMG LLP Scholarship
Hannah Pimley, Joplin - David & Dorothy Patterson Scholarship
Avram Pitter, Helena - Gary K. Bracken International Study Fellowship
Randi Regli, Lewistown - David & Dorothy Patterson Scholarship
Celina Reno, Billings - Deloitte Scholarship
Kaci Shea, Ennis - Donald W. Bullock Memorial Scholarship
Alyssa Sipes, Park City - Scott Miller Accounting Scholarship
Katherine Snapp, Billings - Jake Jabs Scholarship, David & Dorothy Patterson Scholarship, Gary K. Bracken International Study Fellowship, Harrington Bottling Co. Student Mentorship Scholarship
Josh Stevens, Bozeman - David & Tanya Cameron Scholarship
Caitlin Sundborg, Kalispell - Mary Elizabeth McClure Memorial Scholarship
Jay Trotter, Richey - David & Dorothy Patterson Scholarship
Dmitry Trubachenkov, Butte - Elizabeth Seitz-Moyer Memorial Scholarship
Kali Vergeront, Polson - David & Dorothy Patterson Scholarship
Gavin Voeller, Cut Bank - Elizabeth Seitz-Moyer Memorial Scholarship
Amanda Wadsworth, Helena - Robert Simkins Memorial Scholarship
Mitchell Wallace, Billings - David & Dorothy Patterson Scholarship
Courtney Wendland, Rudyard - Montana Society of CPAs Scholarship
Tanner Willis, Joliet - Jeanne & Harold Roby Scholarship, Neil Klusman Memorial Scholarship
Breana Wolery, Inverness - David & Dorothy Patterson Scholarship
Molly Zander, Great Falls - Frank Preston Scholarship, Jake Jabs Scholarship
Justin Zarecor, Stanford - Jake Jabs Scholarship, David & Dorothy Patterson Scholarship
Out-of-State Recipients
Anna Adolphson, Corvallis, OR - David & Dorothy Patterson Scholarship
John Benton, Grand Junction, CO - Jake Jabs Scholarship
Ryan Bovy, Maple Grove, MN - Amy H. Pound Memorial Scholarship
Elise Canevascini, Clayton, CA - Gary K. Bracken Student Scholarship
Brian Delaurenti, Idaho Falls, ID - Gary K. Bracken Student Scholarship
Leigh Enselman, Woodinville, WA - Gary K. Bracken International Study Fellowship
Zori Fossum, Yakima, WA - Jim Alderson Entrepreneur Scholarship
Alex Garbo, Jackson, MS - Jim Alderson Entrepreneur Scholarship
Daniel Keslin, Meredith, NH - Eide Bailly LLP Scholarship
Jack Kost, Excelsior, MN - American Bank/Carolyn Erickson Finance Scholarship
Jodie Kunesh, Chetek, WI - Junkermier, Clark, Campanella, Stevens Scholarship
Lana Lynass, Rapid City, SD - CoB National Advisory Board of Advisors Scholarship
Samantha Mahlen, Williston, ND - David & Dorothy Patterson Scholarship
Katie Padula, Colorado Springs, CO - Women's Circle of Excellence Scholarship
Samuel Pehl, Belle Fourche, SD - American Bank/Carolyn Erickson Finance Scholarship
Bradley Penoyer, Fort Collins, CO - Montana Bankers Association – 25 year Club Scholarship
Kevin Peterson, Valentine, NE - Mike Bowen Memorial Scholarship
Jeremiah Prummer, Sandpoint, ID - Jake Jabs Scholarship
Haley Reutimann, Edmonds, WA - American Bank/Carolyn Erickson Finance Scholarship
Heather Ridley, Burnsville, MN - Harvey A. Larson Scholarship, Jake Jabs Scholarship
Ben Scott, Lingle, WY - Gary K. Bracken Student Scholarship, Jake Jabs Scholarship
Brooke Seagars, Anchorage, AL - Friends of the Open Classic Golf Tournament Scholarship
Kaitlin Spokas, Ontario, OR - Boeing Business Scholarship
Danielle Taurman, Dolores, CO - Mary Frances Bennett Memorial Scholarship
Hannah Taylor, Bellingham, WA - Gary K. Bracken International Study Fellowship
Justin Tribitt, Minot, ND - American Bank/Carolyn Erickson Finance Scholarship
Renee Waterland, Vale, SD - Jake Jabs Scholarship
International Recipients
Tracie Colter, Palmerston North, New Zealand - Jerry D. Trainer Scholarship
Gargi Jagtap, Pune, India - Friends of the Open Classic Golf Tournament Scholarship
Rajeev Modi, Kolkata, India - American Bank/Carolyn Erickson Finance Scholarship
Mariko Shimada, Kumamoto, Japan - Elizabeth Seitz-Moyer Memorial Scholarship