Beta Alpha Psi Student Team Takes Second Place at Regional Conference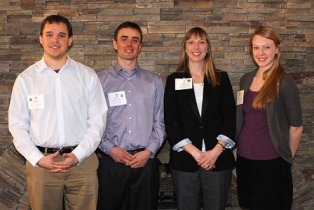 The Beta Alpha Psi (BAP) team, comprised of four Montana State University (MSU) College of Business (CoB) students: Daniel Jensen, Garret Shaw, Jodie Kunesh and Anna Adolphson, traveled to Salt Lake City on March 26 for the annual BAP Regional Conference.
They participated in the "Best Practices Competition" and chose the topic of "Innovate: The Accountant's Role in a Changing Business Environment." The following is the challenge as presented to the students for the competition topic:
To encourage chapters to identify and explore innovative ideas. One of the many "lessons learned" from the recent downturn in the economy is that going back to the way things used to be done is not going to be the "norm" anymore. For example, the transportation industry is being charged with creating new engineering methods to make travel more efficient (high speed rail, more eco-friendly cars, etc.). Businesses are relying more on social media and other technological advances such as teleconferencing to conduct business to reduce travel costs or increase time utilization. The landscape is also changing in professional service firms as they face the challenge of how to successfully integrate the new generation of professionals. What role can accounting and BAP play in the changes?
Shaw, one of the accounting students on the team, believes the accounting program prepared them well for the problem presented. "Since our presentation topic was on the implementation of an educational resource for the implementation of U.S. Generally Accepted Accounting Principles to International Financial Reporting Standards, the accounting program prepared us for our presentation because it is emphasized to us that reporting standards will change in the near future and is one of the most important issues in the accounting industry today."
Jensen agreed. "This is an important topic for today's business professionals in order to keep up with a globalized economy and in order to comply with legal and regulatory standards in future years."
Shaw felt that this experience was very valuable and the students were able to take away a lot from the trip. "I enjoyed the opportunity to meet students from other universities and seeing the different styles of leadership each chapter had and believe the regional conference is a great opportunity for incoming officers to gain enthusiasm and understanding of their roles for the upcoming year. The competition added value to our professionalism because we prepared to present to professionals in the accounting industry and it was another opportunity get more comfortable with public speaking."
With the contributions of the Alderson family going towards students participating in these competitions, the CoB students have been able to compete against other universities which provide experience and a confidence about their business education and knowledge here at MSU.