Unique Partnership Brings Together Town and Gown at W2 Conference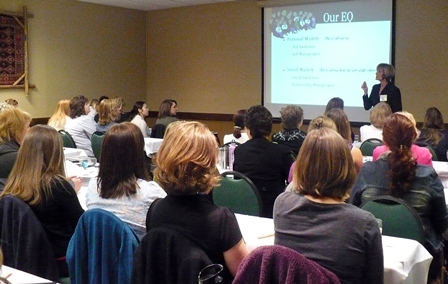 This year, the MSU College of Business (CoB) Women's Circle of Excellence (WCOE) partnered with the Prospera Montana Women's Business Network (WBC) to hold a joint conference called W2: The Women to Women Conference. The conference was held on Thursday, May 19, at the Best Western GranTree Inn in Bozeman.
Like past WCOE conferences, the goal was to provide an event with mentoring and networking opportunities and inspirational and educational sessions. The one-day conference hosted dynamic speakers, educational breakout sessions and an inspirational keynote presentation.
The keynote luncheon featured Janet Hopkins, Vice President of Customer Experience at Recreational Equipment, Inc. (REI). Her talk, "My REI Trek" took the audience through her career journey at REI from retail management to Vice President of Customer Experience. She also gave insight into the company, a retailer of outdoor gear since 1938, which was started by a group of 23 mountain climbing friends and eventually evolved into the nation's largest consumer cooperative.
Hopkins' talk focused on REI's customers and how "The business of REI is people." She said the company's core purpose is inspiration, education, outfitting and stewardship. "REI provides the motivation to get outdoors, will teach you the basics of outdoor education through clinics and classes, while we sell the gear and clothing to make your experience memorable outdoors. REI is more than great gear. Through volunteerism, giving, responsible business practices and more, we connect people to the outdoors and help protect the natural places we love."
For REI, Hopkins says, some key strategic differentiators for the business are their stores' atmosphere and great customer service. Their employees are passionate and knowledgeable and REI gives back to communities, especially community-based nonprofit organizations dedicated to engaging volunteers in conserving local natural spaces. Conference attendees were able to take away many stories of success and professional leadership development tips that they could apply in their businesses or work environments.
The theme of "the people"—customer service and the experience versus the product—was echoed throughout the conference by many of the speakers. Topics covered during the conference breakout sessions included: "Professional Growth with Board Membership," "Developing a Competitive Advantage," "Getting Your Financial House in Order," "Release Your Voice Within," "Marketing Hot Seats," and "Developing a Stronger Business Model with E-Commerce Solutions." The group sessions included: "Woman Entrepreneur of the Year Success Story" and "Overcoming Challenges: Surviving and Thriving Through Life's Obstacles."
Speakers included Robin Bequet, Bequet Confections; Julie Dennison, Printingforless.com; Kara Gallinger, Anderson ZurMuehlen; Ris Higgins, Leadership Outfitters; Tiffany Lach, Sola Café; Toni O'Berry, O'Berry Collaborative; Terry Profota, MSU College of Business and Sage Consulting; Kathy Stark, Starky's Authentic Americana and 20 marketing experts for the "Marketing Hot Seats."
The successful event provided a supportive setting for participants to mentor and inspire each other. It also provided opportunities to network and participate in educational sessions that added both professional and personal enhancement. The conference was sponsored in part by RightNow Technologies and State Farm Insurance. For a complete list of sponsors, please see the following webpage: Women's Circle of Excellence.
For more information, please contact Audrey Lee at audrey.lee@montana.edu or 406-994-7026.