College of Business Providing More International Opportunities for Students
Through study abroad programs, internships and independent studies, the Montana State University (MSU) College of Business (CoB) encourages students to formulate the educational experience necessary to work and succeed in an international marketplace. More and more, employees are required to interact with coworkers and clients from different cultural backgrounds and are expected to have relevant expertise to excel and be competitive. The CoB has partnered up with the University of Montana (UM) to help provide these international opportunities.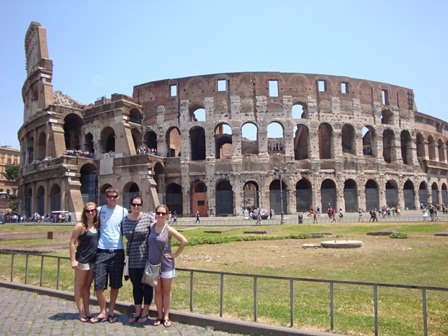 Last year, two students participated in a joint program with the UM business school where students spent two weeks in Bresica, Italy, exploring business and culture for the first time. This year, four students were able to take advantage of this great opportunity: Leigh Enselman, David Johannessen, Hannah Taylor and Kate Snapp.
This program is a faculty-led, intensive two-week summer program that focuses on international business and world trade. Students are exposed to topics related to international strategies such as global competitiveness, foreign markets, world trade and commerce, etc.
Students participated in classes at the Universita' degli Studi di Brescia with American and Italian professors and spent time visiting Italian companies and cultural landmarks. Students also participated in group projects and each team put together marketing plans for the World Trade Center Brescia. Enselman, Johannessen and Taylor created a marketing mix plan for the Gun Expo consulting group and Snapp helped create an expansion plan for a museum partnership in Brescia.
David Johannessen really valued the experience. "I think that the Italy program was terrific. I could list off a million and one things that I learned about international business, or working as a consulting group in a professional setting, or how Italians conduct business…. However, when it comes right down to it, the things that I learned outside the classroom…are the life experiences that I am going to remember and build on. It has been one of the greatest learning opportunities of my life."
This is just one of a number of opportunities the CoB offers students that provides unique international business experiences. For another great example of international opportunities, please see the Q&A story with Keegan Latta, recent CoB alumnus, and his experiences with another program partnered with UM to China.
For more information about international opportunities, please contact Linda Ward in the Bracken Center, lward@montana.edu or 406-994-1995.