Second College of Business Executive's Closet a Huge Success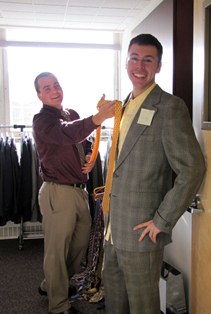 The second Executive's Closet - held for three days in early September, 2011 in conference rooms in the College of Business - equipped 320 students with gently used business clothing and brought them one step closer to becoming successful business professionals. The Executive's Closet is the inspiration of Linda Ward, Assistant Director of the Bracken Center for Excellence in Undergraduate Business Education in the College of Business at MSU. Ward oversees College of Business student enrichment programs including study abroad opportunities, scholarships, internships and business exchanges. Ward first identified a student need for professional business attire several years ago.
"Students needed professional clothing to wear during interviews, recruiting fairs, or to their first job or internship," explains Ward. "Most students can't afford high quality professional clothing, and I knew a number of people with closets full of suits and other business clothing that they were no longer using."
Ward used her extensive network of College of Business graduates, with whom she's developed a strong rapport during her seven and a half years in the College, and her business contacts to solicit donations of gently used, professional business clothing. In addition, she made announcements to local service groups, to the MSU community and to her personal network of contacts and held the first Executive's Closet in 2009.
"It's really been a very grass-roots effort," explained Ward. "We operate with virtually no budget and lots of volunteer hours. College of Business students, faculty and staff helped in many ways. One Business student with experience from the GAP designed the layout, while student club members helped to set up and display the clothing in an attractive, accessible way. And the College's faculty, staff, and students helped participants choose business clothing and accessories to add to their wardrobes."
Racks of clothing—sorted by gender, style, and size—awaited this year's Executive's Closet participants. Of the 320 students who attended the event, 184 were College of Business students, 116 were Engineering majors, and the remainder were from other majors across campus. The majority of participants were men, who left with 62 suits, 63 sports coats, 52 slacks, 26 pairs of shoes, 195 ties, 215 shirts, and some socks.
"I reached out to the Engineering Department, because of their students' need for business attire in their profession," said Ward. "It was really exciting to see students from other Colleges working together to make up outfits, help each other tie ties, and laugh at some of the more humorous outfits."
Ward also received support from local businesses, which helped donate displays and other items for the event. The Gap loaned the College several clothing racks, along with one from a faculty member, one donated from Ward, and several built by students. Another student solicited a donation of hangers from Macys. And community members and business professionals donated everything from men's jackets and ties to women's skirts and shoes.
"It was really neat to see the changes in some of the guys after they tried on clothing from the Executive's Closet," said Jennifer Brien, a senior in the College of Business majoring in Management and Marketing. "Some came in wearing cowboy boots and jeans, uncertain of their sizes and what items to choose to make an outfit. With some assistance from other female students and encouragement from faculty members, they'd find a suit, try it on, and come out standing a bit taller and looking more confident. It was really fun to be a part of that."
The Executive's Closet serves as one example of the College's commitment to help prepare students to become successful business professionals. Dressing the part helps students build confidence, gives them a better sense of what it means to dress professionally, creates a positive impression during interviews and recruiting events, and eases the financial burden of purchasing business clothing at retail prices. It also creates a good feeling for donors, who take pleasure in knowing that their clothing is being put to good use. And students know that the faculty and staff in the College of Business really care and are willing to put forth extra effort to organize such an event for them.
To donate gently used business clothing to the Executive's Closet program in the College of Business, email Linda Ward at lward@montana.edu.