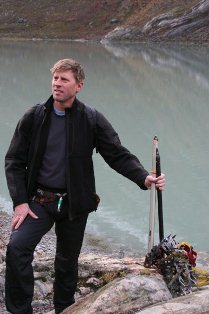 The College of Business will host Shannon Stowell, president of the Adventure Travel Trade Association (ATTA), as the fall Entrepreneur-in-Residence, November 28 through December 2, 2011. Stowell will visit business classes throughout the week. On Wednesday, November 30, he will present "Adventure Travel Saves the World" in Reid 201 at 5:00 p.m. The event is free and open to the public.
Stowell's presentation will address the six major trends that affect all industries and delve into how adventure travel can make a very positive impact on vacation destinations and the world. Stowell will also integrate discussion on eco-tourism and sustainability as it relates to adventure travel.
Stowell earned a B.S. in biology from Seattle Pacific University and is certified as a Fisheries Observer by the National Oceanic and Atmospheric Administration. He worked with the U.S. National Marine Fisheries Service in Alaska in environmental chemistry and biology early in his career. He then spent eight years with an environmental testing firm, working on soil, groundwater and air cleanup projects around the Pacific Rim.
Stowell co-founded www.Altrec.com, an adventure travel gear retailer, selling products from The North Face, Patagonia, ExOfficio, National Geographic Books, Eagle Creek and others. He directed the company's business development, affiliate marketing and non-profit relations for six years.
In 2004, Stowell re-started ATTA, the largest professional organization for adventure travel companies, destinations and organizations worldwide. The organization has over 730 members from more than 70 countries. ATTA has since held seven Adventure Travel World Summits in Europe and the Americas, and has been a global hub for adventure travel professionals. The Summits are, on average, attended by 600 adventure travel pros from more than 50 countries. They gather to learn, network, inspire each other and drive the industry forward on issues such as best practices and sustainability. ATTA also publishes AdventureTravelNewsTM and operates an online community for the sector.
Stowell co-authored, with Don Mankin, Riding the Hulahula to the Arctic Ocean: A guide to 50 Extraordinary Adventures for the Season Traveler, published by National Geographic in 2008. He has studied Mandarin and travels the globe, speaking on adventure travel and ecotourism. In 2011, he was re-elected to the Board of the Global Sustainable Tourism Council (GSTC), a U.N.-backed organization that is standardizing sustainability certification programs worldwide. He is also on the Advisory Council of the Alliance for Global Conservation.
For more information about this event, or the Entrepreneur-in-Residence program, please contact Scott Bryant at bryant@montana.edu or 406-994-6191.