CoB Instructor and Students Collaborate on Upcycle Program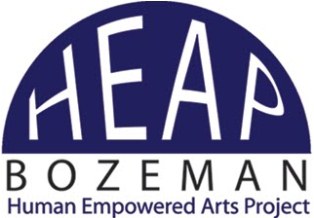 The Human Empowered Arts Project (HEAP Bozeman), a non-profit dedicated to creative upcycling and environmental education will launch during the 2012 Gallatin Earth Celebration in Bozeman, MT.
HEAP Bozeman's mission is to empower the Bozeman community through its educational programs, and upcycle workshops while inspiring the community to divert reusable items for the exploration of making the common uncommon. Programs supporting these goals include the Information Tank, which enables collaboration with local environmentally conscious organizations, and the HEAP Cooperative; a program dedicated to the campaign "Think Before You Toss" in partnership with local thrift, pawn and consignment stores.
Executive Director, Anna Hernandez, founded HEAP Bozeman as a continuation of her own passion for upcycling creativity, and resolved to share it with the Bozeman community. Hernandez also sought to give local students the opportunity to obtain business start-up experience through the establishment of a non-profit. Anna and a team of six Montana State University interns have collaborated this spring semester to develop an innovative program that provides Bozeman the opportunity to discover the benefits of upcycle creativity while learning the importance of sustainability and environmental awareness.
HEAP Bozeman will participate in the Hawthorne Elementary Earth Day Celebration on Friday, April 20 from 2:00 p.m. to 4:00 p.m., and formally launch at the Bozeman Clean Up and Sustainability Vendor Show at Bogart Park on Saturday, April 21 from 10:00 a.m. to 1:00 p.m. At Bogart Park, HEAP will be presenting their creative approaches to repurposing reclaimed items. Upcycle workshops for kids and adults will be provided, and items from the HEAP Eclectic Boutique will be on sale to raise funds for the Human Empowered Arts Project.
For more information, visit www.heapbozeman.org or contact Anna Hernandez, anna.hernandez@montana.edu
.