Jabs to receive MSU honorary doctorate degree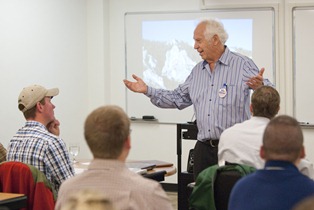 Jake Jabs, a 1952 graduate of Montana State College and president and CEO of one of the top retail furniture companies in the United States, will receive an honorary doctorate degree from Montana State University during the university's 116th spring commencement.
MSU's spring commencement ceremonies are scheduled for 9 a.m. and 1:30 p.m. Saturday, May 5, at the Brick Breeden Fieldhouse. Jabs will receive the honorary doctorate during the 1:30 p.m. ceremony.
"Mr. Jabs is a remarkable individual," said MSU President Waded Cruzado. "This is the highest commendation MSU confers, and Mr. Jabs is very deserving of this recognition. His life, career and accomplishments are an inspiration to our faculty, students, staff and alumni. We are delighted to honor him in this way."
In a letter nominating him for the honorary doctorate, College of Business interim dean Susan Dana wrote that MSU students look up to Jabs.
"Students tell me that they want to be like Mr. Jabs not only because they want to be successful in business but perhaps more importantly because they respect his values, his integrity and his genuineness," Dana wrote. "He truly is a role model who reflects well upon Montana."
MSU annually confers doctorates on friends of the university to honor achievements and service to the state of Montana.
For the entire press release, please click here.