Upcycle Program Led by CoB Instructor and Students Gaining Ground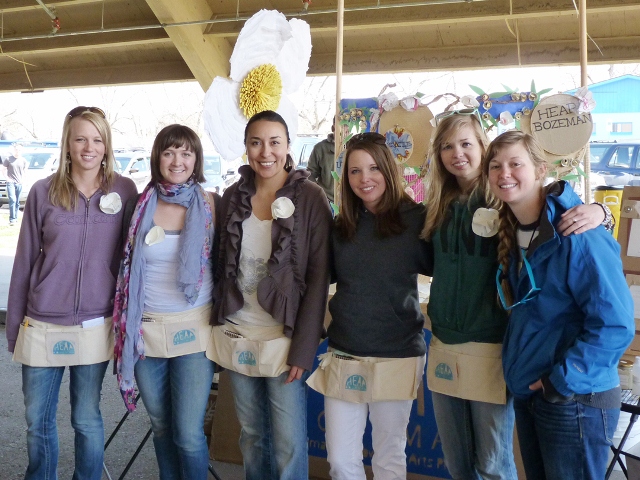 The Human Empowered Arts Project (HEAP Bozeman) is a non-profit dedicated to creative upcycling and environmental education. Founded by CoB instructor Anna Hernandez, who is currently serving as the executive director, the program was launched during the 2012 Gallatin Earth Celebration in Bozeman, MT with the help of six MSU students: Mara Johnson, Accounting; Barbara Kohring, marketing and management; Samantha Middlestead, marketing; Hannah Safford, Art and Art Education; Haley Schranck, Architecture; and Jordan Thornton, Visual Art.
HEAP Bozeman's mission is to empower the Bozeman community through its educational programs, and upcycle workshops while inspiring the community to divert reusable items for the exploration of making the common uncommon. Programs supporting these goals include the Information Tank, which enables collaboration with local environmentally conscious organizations, and the HEAP Cooperative; a program dedicated to the campaign "Think Before You Toss" in partnership with local thrift, pawn and consignment stores.
HEAP Bozeman has five values that they champion:
• Contribution: Promoting the donation of items for reuse, and the enjoyment of collaborative art and environmental projects
• Creativity: Changing the perspectives that frame the beliefs of upcycling and reusability
• Inspiration: Fulfilling our goal to inspire the community through artistic and environmental expression
• Innovation: Providing the community novel ideas to recreate with everyday items, and captivating them towards a new way of thinking about their used belongings.
• Resourcefulness: Demonstrating the options to change a lifestyle through education and conscientiousness. Filling the void by creating activities for the community that direct reusable items towards making the common uncommon.
After moving to Bozeman, Hernandez was fed up with the amount of trash she had to dispose of every week. "Having to see our own garbage, we became avid recyclers and up-cyclers. I want to share the benefits of thinking-before-you-toss by demonstrating it can be satisfying to create with what we already have, and making it convenient for others to change their habits." Hernandez hopes to share this attitude with her students and Bozeman residents.
HEAP has been gaining ground and has already made a splash at the Hawthorne Elementary Earth Day Celebration, and the Gallatin Earth Celebration both in April, where they manned a display booth created with recycled materials to showcase items that are frequently overlooked and thrown away. With the hopes to have a larger visible project each year, HEAP is looking at participating in this summer's 2012 Sweet Pea Festival.
Other HEAP projects in the works includes organizing The Thrift Cooperative, which brings visibility to thrift store shopping and donating in conjunction with the start of the fall semester with hopes to curb waste while MSU students move back to campus and The Artist Cooperative, which would provide a place for creative minds to share project ideas, materials and display their artwork.
For more information, visit www.heapbozeman.org or contact Anna Hernandez, anna.hernandez@montana.edu.
You can also read about HEAP in Bozeman Magazine's article "HEAP Bozeman Creatively Reducing Bozeman's Waste" and through Montana State News, the website for MSU's WRIT 373 News and PR Writing Class under "Group Introduces Locals to 'Upcycling'".