CoB Student Combines Business and Passion to Fly Free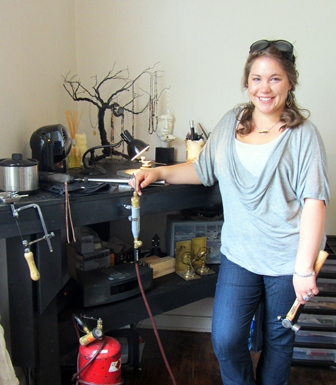 Morena Garcia, a Bozeman native and a Montana State University (MSU) College of Business (CoB) senior, has been a silversmith ever since she took an art class that included silversmithing at Bozeman High School. She will also tell you that she has always wanted to be an entrepreneur. Her mother would agree because Garcia's favorite saying growing up has been, "You're not the boss of me!"
Garcia started Fly Free Designs—a custom silversmith and jewelry company—while still in high school, but officially registered the business January 2012. Her other passion, being a pilot, inspired her business name, integrating this aspect of her personal story into her artistic pieces. Creating unique jewelry, Garcia views each piece as a message to her customers to "Fly Free," and customers will often find words of encouragement and love in not-so-obvious places on the pieces. She also adds her personal touch to all the pieces by including a beautifully designed card that states "I just wanted to let you know how much your support really means to me, and that it is truly appreciated. You have helped me find my dreams. Thank you."
After she started her business, Garcia decided to enroll in the COB, saying that pursuing a business degree has been very helpful for her because she's needed those skills to run her business. She adds, "You do your own marketing; you are your own accountant. In an art-based industry, you need the business skills to be successful."
Studying business at MSU has also helped Garcia gain confidence in successfully running her business. The CoB's emphasis on professionalism has helped her with all the subtleties of running a business, from customer service to networking and marketing her business to others. Garcia believes these skills will especially come in handy as she's been accepted to participate in Art Fair Jackson Hole with a group of high-caliber artists this summer.
Even though Fly Free Designs has a Website, Garcia has opened a storefront on Bozeman's Main Street and showcases many of her pieces in other stores downtown. She loves interacting with her customers. "Nothing compares to face-to-face communication and interaction. When you sell directly to customers, and get to see their reactions, hear their feedback firsthand, that information is invaluable for strengthening your business."
As with all businesses, Garcia says there are challenges, but also great rewards. As an entrepreneur, she says, "It's not certain. It's not routine." She says that owning a business is not like being in school, where you have homework and a syllabus that tells you what to expect. You also have to be dedicated to your business. She says, "You're your own boss and maybe your boss wants to go to the river and go floating…and you have to be 'no, no, no'."
On the other hand, Garcia says that she used to struggle with self-confidence and that with her jewelry she is able to present herself through her work. "To have your peers judge your work, something you have created, and be successful at it is the most amazing feeling that I can describe!"
When asked what advice she would give other students following in her footsteps, Garcia says, "Look at your current state now and try and figure out who you are and then look ahead. It's all about vision and the future. You can be existing now…but if you don't think about where you're going, you're not going anywhere."
For more information about the small business and entrepreneurship minor program, please visit our website: www.montana.edu/cob/centernewwest/index.htm.