Professionally Preparing our Students for Life after College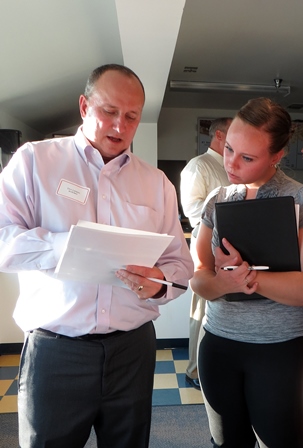 One of the main goals of the College of Business (CoB) is to prepare our students academically and professionally for life after school. The Bracken Center for Excellence in Undergraduate Business Education is one key resource that helps provide support for this goal.
Linda Ward, assistant director of the Bracken Center, is the key facilitator for arranging professional opportunities for students to participate in throughout the year—ranging from recruiting fairs and internships to study abroad and business club events. She works to bring in recruiters and assists with matching up students with these opportunities.
Students also utilize the Bracken Business Communications Clinic to review their resumes and participate in mock interviews with communications professionals. Each year, the Bracken Center also partners with the MSU Career, Internship & Student Employment Center on additional career events—the Etiquette Dinner, as well as extra resume reviews, mock interviews, and career coaching.
All this preparation work occurs in the fall, prior to three large recruiting fairs, numerous company socials, and networking opportunities. About 225 business students participated in the CoB recruiting fairs. Meet the Accounting Recruiters Fair was on September 20 and Meet the Recruiters Fair took place on October 10, both located at the Stadium Club. The Meet the Recruiters Fair was co-sponsored by the MSU Career, Internship & Student Employment Services and the accounting event was co-sponsored by the Eta Chi Chapter of Beta Alpha Psi.
These two events allowed students to mingle and swap resumes with more than 30 recruiting companies spanning all option areas and participating from across the country. Some businesses represented at the fair included: Boeing, Cloud Peak Energy, Edward Jones, Enterprise Rental Car, Kiewit, NAVSEA, PrintingForLess.com, Sherwin Williams, Verizon Wireless Zoot Enterprises, Northwestern Financial Mutual, and 12 new businesses.
The Meet the Accounting Recruiters Fair included local, regional, and national firms such as Anderson ZurMuehlen & Co.; Clark Nuber; the Comptroller of the Currency; Eide Bailly, LLP; the Federal Reserve Bank of Minneapolis; Galusha, Higgins & Galusha PC; Junkermier, Clark, Campanella & Stevens, P.C. (JCCS); KPMG; the Montana Department of Revenue; Moss Adams, and Rudd & Company, to name a few.
These recruiting events have proven to be invaluable for students, giving them a chance to find opportunities with national companies like Boeing, Cloud Peak Energy, Kiewit, BNSF, TIC (The Industrial Company) and to meet face to face with major recruiters. In addition, these events allowed students to network with Bozeman based companies such as CleanSlate and WealthVest, and have been a major recruiting resource for these companies.
In the current competitive employment environment, these opportunities have given our students the chance to differentiate themselves and perhaps consider working in a geographic area they may have not considered. The local companies have allowed them to gain hands on experience in the business world through internships and students repeatedly comment they wish they had done more internships while they were in school.
For more information about professionalism in the CoB, we encourage you to visit our Bracken Center webpages: www.montana.edu/cob/bracken/brackenhome.