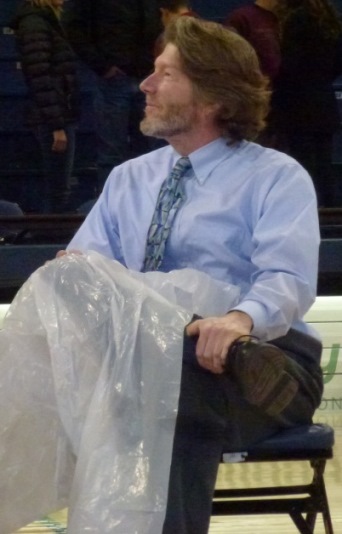 In efforts to connect the academic side of campus with the athletic side, Montana State University (MSU) Athletics has established a "guest coach" position and invites faculty from across campus to participate. Frank Kerins, associate professor of finance in the Jack Jabs College of Business & Entrepreneurship (JJCBE), was chosen to be the guest coach for the Sunday, November 24, women's basketball game against the University of Denver in Worthington Arena.
Ordinarily, the guest coach sits on the bench, joins in on team huddles, and participates in other small duties associated with the game. Kerins wanted to do more. With efforts to get students and the wider Bozeman community involved by donating food and attending the game, Kerins came up with a brillant idea. After talking to Trish Binford, the head MSU women's basketball coach, Shave Fest was brought to life. The deal brokered: if 250 pounds of food was collected for the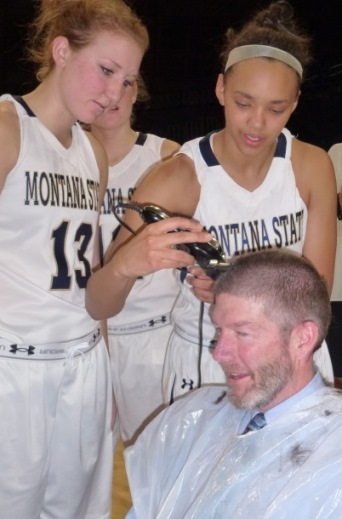 Gallatin Valley Food Bank, and at least 50 MSU students were in attendance, Kerins would have his head shaved, in the arena, immediately after the game.
Word about the event spread, posters were created and distributed around MSU. By the game's end, 387 pounds of food was collected, with 68 MSU students in the stands. Kerins, true to his word, donned a plastic apron and Shave Fest commenced with MSU women's basketball team members buzzing off his locks with hair clippers.
Kerins' creative ideas go well beyond Shave Fest, as demonstrated by his teaching, research and consulting interests in investment, corporate and entrepreneurial finance. Kerins' recent research has focused on the financial risks associated with entrepreneurial ventures and initial public offerings.
For more information about the JJCBE faculty and their achievements, please visit our webpage: http://www.montana.edu/cob/bracken/faculty.htm.